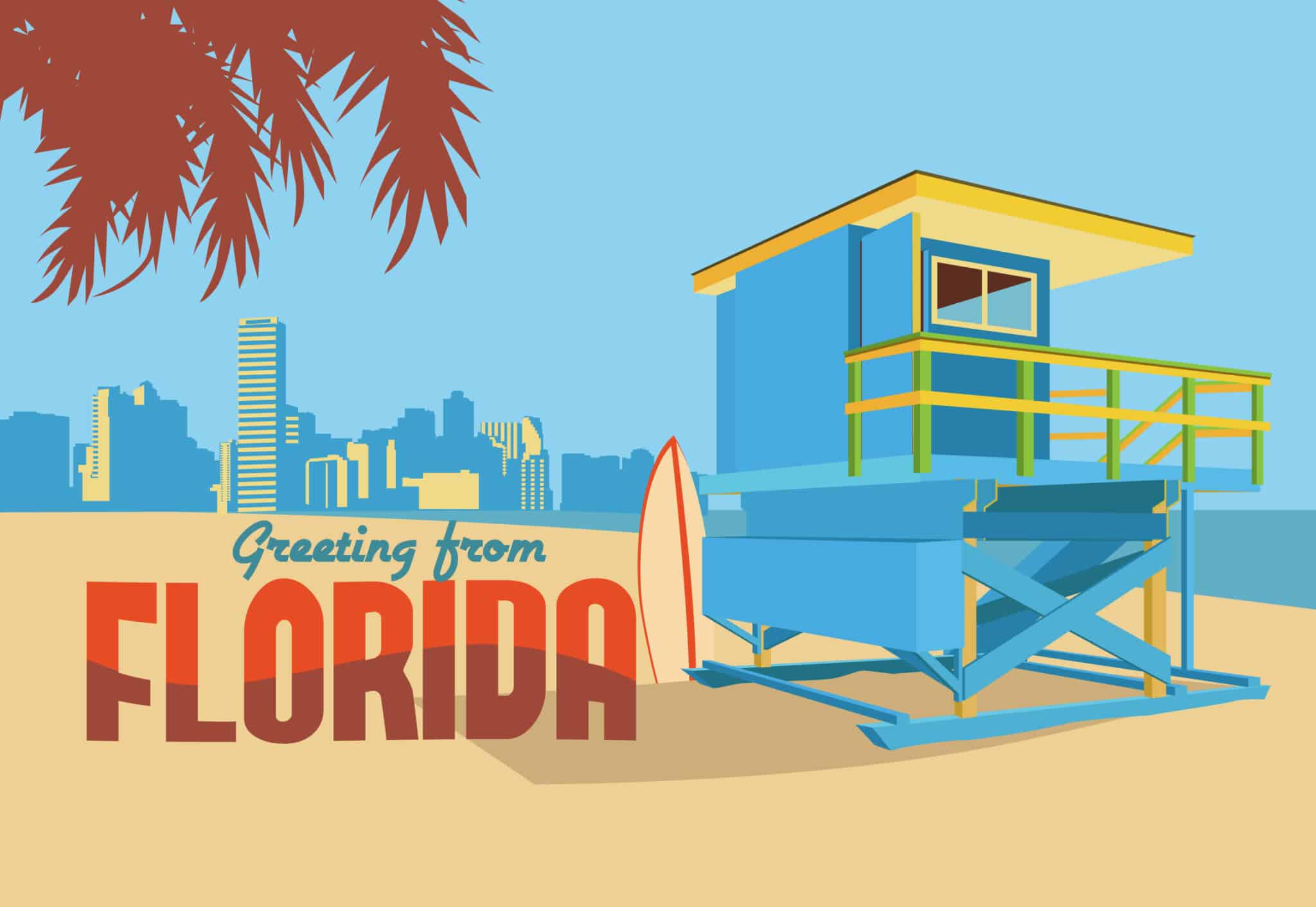 Florida was the most popular state to move to in 2022, beating out Texas and North Carolina, according to a recent study by real estate website, Homebay. Between April 2020 and July 2022, over 700,000 people moved to Florida from out of state, a massive population bump that made Florida the fastest-growing U.S. state for the first time since 1957.
There are a number of reasons people are uprooting their lives to move to Florida. Some are quite obvious (beaches, sunshine), and some are not so obvious (the tax situation, hidden advantages for retirees). Let's dig into some of the alluring attributes about Florida that are contributing to its population boom. 
A real estate market that's relatively affordable now — and set up for a future boom
Compared to other top-tier destinations like California and New York City, Florida offers exceptional affordability, especially when you take all the state's lifestyle advantages into account. A half-million dollars won't get you much in Manhattan or San Francisco, but in the right Florida beach town, it can still get you the house of your dreams.
On the other hand, Florida housing inventory has fallen even faster than national inventory. As the state experiences record inflows of new residents, demand is far outstripping supply, and pushing prices steadily upwards. Even as prices flattened or declined in many parts of the U.S., Florida home prices rose over 8%, year over year. This has been a boon for homeowners, even as it's put stress on renters. Even if homebuilders put up new homes as fast as they could, it would still take years for supply to catch up. In the meantime, Florida's real estate market will continue to boom, and Americans all over the country will continue to throw their stuff in a moving truck to come and cash in on the Sunshine State housing jackpot.
The weather
One of the main reasons people are moving to "The Sunshine State" is right there in the nickname. Florida offers some of the best weather in America, with year-round warmth and sunshine. During the coldest month in Florida, January, lows are in the fifties, and during the day it's still in the seventies. In Florida, you won't even need a coat, much less a hat, gloves, boots, thermal underwear, and other wintertime mainstays in northern states.
No state income tax — and a generally low-tax environment
Florida's one of only nine U.S. states that don't have a state income tax. That means remote workers who relocate to Florida could get the equivalent of a 10% raise or more, depending on the state taxes where they came from. Some economists believe the absence of a state income tax confers other economic benefits too, from a stronger job market (due to inflows of workers fleeing high-tax states), to a faster growing state GDP.
This cushy tax environment isn't going anywhere any time soon. Florida's state constitution specifically forbids a state income tax, so it's not like the state can reverse course to cover a sudden shortfall. And imposing any sort of new statewide tax actually requires a two-thirds supermajority of both the state Senate and House — a degree of unanimity that's exceedingly difficult to coordinate.
In the meantime, Florida's other taxes are pretty light. The corporate tax rate is only 5.5%, which is a major factor in the state's booming job market. And the state sales tax is only around 7%, which is about average nationally.
Miami
While New York fancies itself as the sophisticated international city in the U.S., the actual holder of that title might be Miami. This article detailing how international soccer superstars from Messi to Neymar have made Miami their second (and possibly primary) homes lays out the reasons why: the laid-back lifestyle, the weather, the architecture, and the fact that a foreigner can live comfortably in Miami without speaking any English. (According to the World Population Review, Miami is the most diverse city in the world, with nearly 60% of its inhabitants hailing from another country.) All of this taken together makes a strong argument that Miami has been the best city in America all along, hiding in plain sight.
It's incredibly retiree-friendly
Florida's always been one of the most popular retirement destinations in the U.S., and they still make up a huge chunk of Florida's population; of the state's 22 million people, almost a fifth, or over 4 million, are 65 and older. Could this be a factor in Florida's title as the state with the worst drivers? It's uncertain.
Same as everyone else, retirees love the year-round warm weather, the beaches, the laid-back vibe. But the state also offers some specific advantages to retirees. The absence of a state income tax makes the state one of the few places in America where retirees don't have to pay taxes on income like Social Security, pensions, and even IRA withdrawals. That's a huge advantage to someone on a fixed income.
Florida also offers senior citizens special homestead exemptions that can dramatically reduce their property tax bill. In some counties, seniors can exempt their home's entire value from property taxes. And finally, Florida has no estate or inheritance tax, an important consideration for seniors looking to pass their wealth on.
A strong post-pandemic rebound
Among the U.S. cities that saw the biggest population growth in 2022, several were in Florida — cities like Ocala, Deltona, and Tallahassee all had inbound move rates that were at least 6% higher than outbound move rates.
Not coincidentally, those cities all had strong job market recovery, post-pandemic. Not only did those Florida cities recover all the jobs they lost during the early days of the pandemic, they also added at least 5% more jobs in the months since. For example, compared to early 2020, Deltona, FL actually has 6% more jobs today than it did pre-pandemic. And while Deltona is a notable outlier in the state, Florida as a whole weathered the pandemic's economic disturbances as well or better than any state in the U.S., and has led the charge during the recovery.
All in all, Florida has so many great qualities that even its shortcomings — for example, its placement on this list as a state having some of the worst drivers in the U.S.– pale in comparison. Instead of asking why so many people are moving to Florida, maybe we should be asking why so many people aren't.